Signs for Your Business or Institution
If you are looking for signs for your small or medium-sized business, you've come to the right place. KolorKraze provides exceptional promotional printing and much more. We can even help create a functional system of wayfinding signage for hospitals and other facilities to ensure visitors can navigate easily.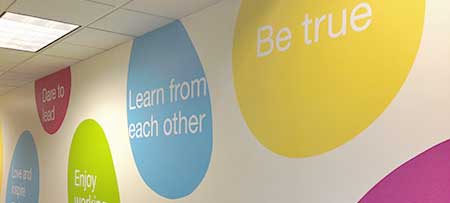 Signs by KolorKraze
The Importance of Well-Made Signage
Visual graphics and signs help inform, build awareness, and educate your audience. Cluttered, poorly designed, or flimsy signs can cause confusion about your product, service, or event, leading to a lack of interest. Our team of expert printers has access to the most updated printer technology and fourteen years of experience to ensure your signs are clear, concise, and durable.
Types of signs we create include:
Wayfinding and directional
ADA (Braille)
Dimensional letters
Aluminum and plastic signs
Property signs
ADA compliant signs
View Our Full Sign Catalog
Let Us Help You with Your Next Project or Event
With high-quality inks and solvents printed on the most durable materials, we are confident you will be happy with the process and the final product. Constricting sizes and material types are a thing of the past. Create a custom sign with no limits in terms of size, shape, or creative input.
No matter the scale, we can create signage that looks great and attracts business in a way that reflects your style and professionalism. As residents of Vancouver, we have a personal attachment to small businesses in the area and want them to succeed. Every project is important to us, so we take great care in helping you make the right statement.
Contact Us for Great Signs in Vancouver!
Email or call us to discuss the details of your next project. We create tasteful products that enhance your business image.